VA Form 21-526 Printable, Fillable in PDF – Veterans Application for Compensation and/or Pension (VA Form 21-526) is a form that may be completed by veterans who are now suffering from a disability that was caused by an accident, illness, or incident while serving in the military and who desire to apply for compensation or pension benefits. The Department of Veterans Affairs (VA) issued the most recent version of the application on November 1, 2014, which was the first time it had been released. A fillable version of the most recent VA Form 21-526 is available for digital filing and download at the link provided below. If you prefer, you may get it via the VA website.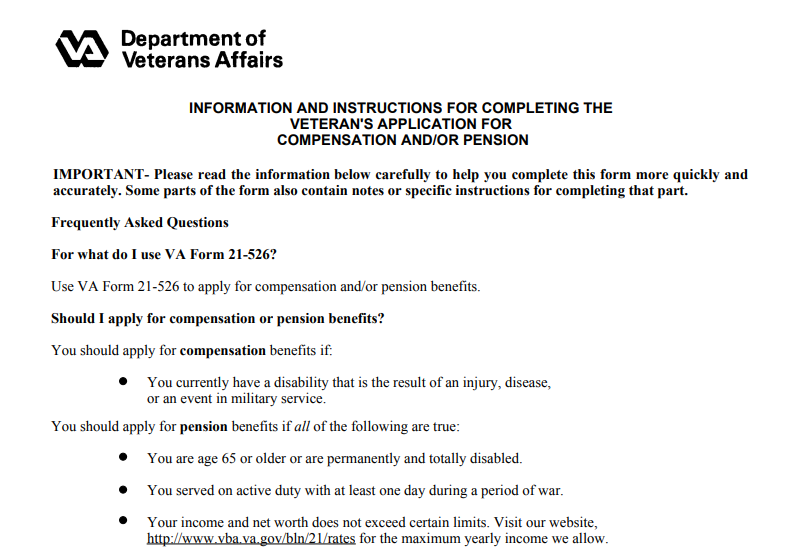 What Is The Purpose Of VA Form 21-526?
The VA Compensation and Pension Benefits Application Form is used to submit a request for compensation or pension benefits from the VA. All veterans who have suffered a service-related disability are entitled to petition for VA compensation payments, regardless of their age. Veteran pension benefits are available to those who have been on active duty for at least one day during a time of war, are 65 years old or older, have a complete and permanent handicap, and have been on active service for at least one day during that period. The VA has established income limitations for applicants that must not be exceeded by any means.
How Do I Fill Out VA Form 21-526 At The VA?
The form is issued with filing instructions and a frequently asked questions (FAQ) section on the opening pages of the form. Instructions for completing the VA Form 21-526 may be found in the section below.
Instructions For Completing VA Form 21-526
To be considered for a pension, all parts of the application form must be completed. When filing for compensation payments, it is recommended that portions VII, VIII, IX, and X be omitted.
Part I of the application needs information on the veteran as well as the kind of benefit for which they are seeking. The Veteran's complete name, Social Security Number (SSN), VA file number, date and place of birth, gender, and the SSN of their spouse – if applicable – are all needed pieces of personal information. In addition to the veteran's postal address, phone number, and email address, this section should include his or her signature. When submitting Part I, it is important to note whether or not any VA Form 21-526 has been filed in the past.
In Part II, you will find information regarding the veteran's service-related impairment, including its nature and history. When the handicap initially presented itself, what therapy was administered, and what the primary cause of the ailment was all essential pieces of information.
Part III contains information about active duty… This section needs information on the length of time spent in the service, the service number, the date of separation from the military, the branch of service, the organization, the grade, and the rank held.
Reserve and National Guard service information is included in Part IV. This section asks that you describe whether the cause of your impairment happened while you were on active service or while you were training. The applicant's status as a member of the Reserves or National Guard should be indicated in the application; otherwise, the application will be rejected.
The fifth section contains information on retiring pay or severance money. Specify the veteran's retired status and whether or not he or she wishes to receive VA compensation in place of military retired pay.
The sixth section contains information on the veteran's spouse and dependent children.
Part VII contains information concerning a non-service-connected pension that has been sought.
Part VIII provides information about earnings. This section contains a table for income data, which requires information about income received from renting property or any business operation for the previous 12 months, income received from the operation of a farm for the previous 12 months, and the possibility of a change in income during that period.
Part IX contains details about the veteran's financial worth. Part X contains information on any recurrent medical, legal, or other fees that you may incur. Part XI, which contains information about direct deposit.
Certificate of certification and authorization from the veteran, as well as signatures from the veteran's representative. Part XIII must include any further notes that may be necessary.
VA Form 21-526 Printable, Fillable in PDF
Related Post For VA Form 21-526