VA Form 21-0779 Printable, Fillable in PDF – It is necessary to report the degree of care needed by a claimant or the claimant's dependant on VA Form 21-0779, Request for Nursing Home Information in Connection with Claim for Aid and Attendance, to receive benefits. This form is exclusively used for certain non-service-connected pension claims that do not include service.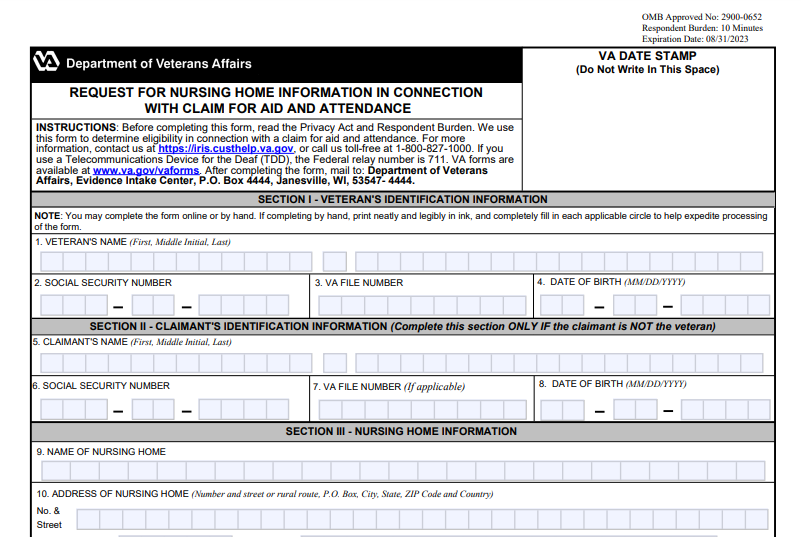 The Department of Veterans Affairs (VA) issued the most recent version of the form on August 1, 2020, rendering all earlier forms outdated. An up-to-date VA Form 21-0779 fillable version is available for digital filing and download below, or it may be accessed on the VA Forms website by searching for VA Forms.
The VA "Aid and Attendance VA Form 21-0779" is intended exclusively for people who are residents of nursing homes and is used to document their assistance. It is vital to document the amount of care needed to establish a claim for extra pension benefits above and above the basic level, as well as to demonstrate the necessity of particular medical costs.
The ability to access medical records is critical in advocating for high-quality treatment for nursing home patients. Residents and their legal representatives have the right to submit a request for any nursing home records relevant to their care, including current clinical records, that they believe are necessary. In addition, residents have the option to acquire extra copies of their medical records if they so want. In the case of a general or durable power of attorney, a claim cannot be lodged.
Instructions For Completing VA Form 21-0779
The VA Form 21-0779 is given without the filling directions that are normally included with the form.
Detailed instructions on how to complete VA Form 21-0779.
Each portion of the form is divided into four parts:
Section I contains information on the veteran or claimant's identification. Fill out the form with your complete name, social security number, VA file number (if applicable), date of birth, and service number (if applicable) if you're a veteran or claimant.
Section II provides information about nursing homes. The nursing home's name and address, including the unit number and street or rural route, PO box, city, state, and nation should be included in your submission.
In Section III, you'll find general information. It is completed by a representative from the care facility. Mention the patient's admittance date to the nursing home, the date Medicaid or an analogous plan started, and the amount of out-of-pocket expenses the patient is liable for each month. Please include your complete name, position title, and phone number. Fill in the blanks with data to answer a variety of questions, including if the nursing care facility is Medicaid or equivalent authorized, whether the patient has filed for Medicaid or an equivalent plan, and more. To receive skilled nursing care or intermediate nursing care, you must certify that the patient is confined to the institution due to a mental or physical handicap and is receiving such care.
Section IV. Intentions and Declarations of Intent To conclude, you must confirm that the claims on this form are true and accurate to the best of your knowledge and belief by signing and dating the document.
Following the filing of VA Form 21-0779, the Department of Veterans Affairs (VA) may seek the following documents. Provide them as quickly as possible with the following information:
A copy of the Department of Defense Form 214, Certificate of Release or Discharge from Active Duty;
If a Veterans Service Organization (VSO) is functioning as the claimant's representative, the claimant must complete VA Form 21-22, Appointment of Veterans Service Organization (VSO) as Claimant's Representative. A veteran service officer (VSO) is a professional veteran issues advocate.
If a person is functioning as the claimant's representative, the VA Form 21-22A, Appointment of Individual as Claimant's Representative, should be used.
Form 21-4142, Authorization to Release Information to the Department of Veterans Affairs;
Form 21-2680, Examination for Housebound Status or Permanent Need for Regular Aid and Attendance, is used by the Veterans Administration.
Form 21P-8416, Medical Expense Report, is used by the VA.
Besides completing the necessary paperwork, the claimant needs to obtain the following documentation:
Certificates of marriage and decease are required.
Information about an asset;
Verification of sources of income;
Provisional proof of medical premiums;
Check for Direct Deposit for Aid and Attendance has been voided.
The claimant who submits this form should keep in mind that it may be used to support a claim for a higher level of pension as well as the necessity for particular medical expenditures in certain cases. When a claimant chooses to file a VA claim, and when the nursing home reviews the claim's completeness, it is important to keep these two goals in mind to ensure that there are no unexpected outcomes with the claim.
What Address Should VA Form 21-0779 Be Sent To?
The completed VA Form 21-0779 is submitted as part of a fully formed claim, which includes all supporting documentation. In-person or by mail, the form should be given to the local VA regional office once it has been completed, either manually or electronically
Veteran or surviving spouses may be assisted in filing a claim by a lawfully designated service organization, an employee of the local regional VA office, or an authorized agent or attorney recognized by the Department of Veterans Affairs. The claimant may get in touch with a Veterans Service Officer from a local Veterans Service Organization to file a claim.
The Fully Developed Claim (FDC) scheme is the most efficient method of having a claim handled as quickly as possible. When making a claim, it is necessary to provide all proof or supporting documentation. When submitting a standard claim, the claimant just grants the VA authorization to collect evidence on his or her behalf. VA Form 21P-527EZ, Application for Pension, together with any supporting documentation, should be completed and submitted to the VA by the claimant.
When a claimant is in a nursing facility, the VA Form 21-0779 must be completed by the claimant. Participation in the FDC program is completely voluntary and has no impact on the claimant's payments. If a claim is made under the FDC and the VA wants further information, the claim will be removed from the program and processed conventionally, according to the regulations.
VA Form 21-0779 Printable, Fillable in PDF
Related Post For VA Form 21-0779