VA Form 21-0781A Printable, Fillable in PDF – In the United States, the Department of Veterans Affairs (VA) issues VA Form 21-0781A, Statement in Support of Claim for Service Connection for Post-Traumatic Stress Disorder (PTSD) Secondary to Personal Assault, which is used by veterans who have been diagnosed with PTSD as a result of their military service. An attack on one's person is one of the most common reasons for completing the form.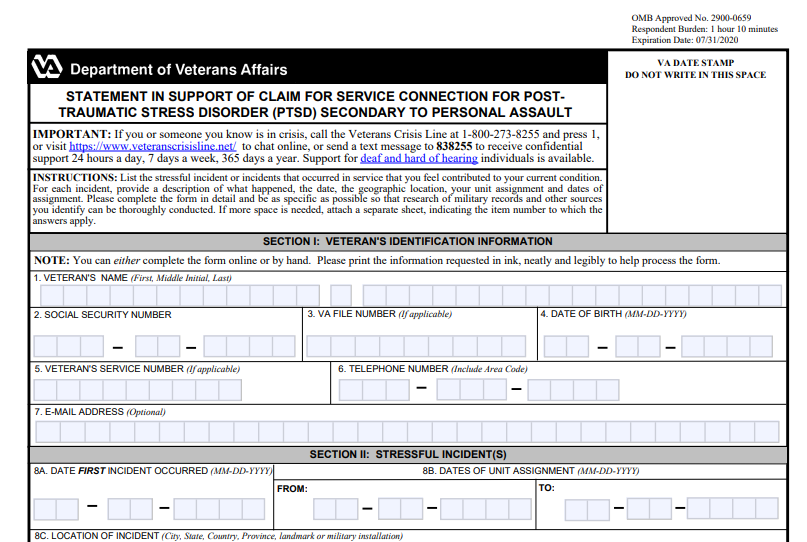 The most recent version of the form was made available to the public on July 1, 2017. For your convenience, we have included a digital version of the VA Form 21-0781A for you to use and download below, as well as a link to the VA website.
The VA Form 21-0781A asks for certain information regarding the traumatic occurrence, such as the precise time, date, and place of the incident, as well as a description of what happened. Additional information that can be provided by a filer includes the names, ranks, and addresses of those who can verify the details of the incident. By providing specifics, you may guarantee that the VA receives all of the information they need to process your claim. PTSD claims are submitted to the VA using VA Form 21-0781, Statement in Support of Claim for Service Connection for Post-Traumatic Stress Disorder (PTSD). This form is the most important aspect of filing a claim for PTSD with the VA.
Instructions For Completing VA Form 21-0781A
In-service Personal assault is a broad phrase that refers to a variety of different types of attack:
MST (military sexual trauma) is a term used to describe the psychological effects of sexual trauma on service members.
Assault with physical force;
Battery for the home;
Robbery;
Mugging;
Stalking;
Harassment.
Women and men who have served in the military may be victims of sexual assault. The most significant challenge is that assaults are often not recorded, and victims may be reluctant to provide proof to back their claims. A soldier may legally support their PTSD claim with a variety of sorts of proof that is based on their facts. This evidence may contain the following items:
Information obtained from law enforcement agencies.
The following are statements made by rape crisis centers and mental health counseling clinics.
Medical records are obtained from hospitals or clinicians.
Pregnancy testing and tests for sexually transmitted diseases (STDs).
Statements from family members, roommates, or other military members are also acceptable as evidence.
VA Form 21-0781A is accompanied by a slew of particular supporting documentation. These are some examples:
A diagnosis of post-traumatic stress disorder (PTSD) from your healthcare professional.
A written statement from your service provider, either in the form of a letter or a note.
You have tangible proof to back your claim.
A score on the Global Assessment of Functioning (GAF) is given by your healthcare professional. Using the GAF, mental health practitioners may determine how well a person is functioning in their everyday life on a scale from 0 to 10.
The VA Form 21-0781A must be completed in its entirety.
The applicant must categorize the occurrence as either a "sexual assault" or a "personal assault," depending on his or her preference. Indicate the names and unit details of those involved, as well as whether or not they have been punished. Even if you don't recall when the incident took place exactly, you may make an educated guess within three months or refer to a certain season, holiday, or event.
Do not include any details about the second occurrence in your report. Draw a line across all of the boxes and write "Not Applicable" in the center. You should not use the same form to describe another occurrence unless you are prepared to wait: the processing period for a PTSD claim might take up to a year or more.
In the blank area given below the checklist, you should explain any behavioral changes that you may have seen as a result of the occurrence.
VA Form 21-0781A Printable, Fillable in PDF
Related Post For VA Form 21-0781A