VA Form 28-1900 Printable, Fillable in PDF – Veteran's Affairs (VA) Form 28-1900, Disabled Veterans Application for Vocational Rehabilitation (also known as the VA vocational rehabilitation form) is an official form issued by the Department of Veterans Affairs (VA) that allows veterans to apply for benefits under the VA's vocational rehabilitation program. Veterans who apply for this kind of program may have difficulty retaining or obtaining employment as a result of service-connected impairments. It allows individuals to be accepted into a rehabilitation program and get the training they need to obtain new work, or to find a means to maintain their existing employment.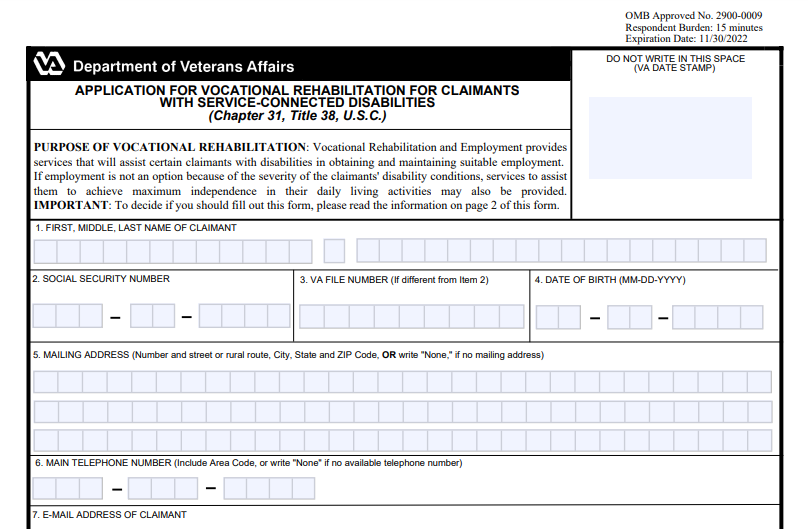 The most recent fillable version of VA Form 28-1900 was issued on November 1, 2019, and it is accessible for digital filing and download from the links provided below.
The Vocational Rehabilitation and Job (VR&E) program assist military members and veterans who have suffered service-related impairments in preparing for, obtaining, and maintaining acceptable employment opportunities. Workforce development services include job placement help, short or long-term training, the purchase of necessary materials and equipment, and job training on the job. Services are typically provided for up to 48 months, although they may be extended under specific situations.
To be eligible for benefits, a veteran must fulfill one of the following requirements:
The veteran must have a service-connected disability (or SCD) with a rating of 20 percent or higher as well as an employment handicap.
In addition, the veteran must have a total SCD rating of 10 percent and a significant employment handicap;
The applicant must be awaiting release owing to a medical condition resulting from a significant accident or sickness sustained while serving in the military.
When applying, you must be a service member who is pending release and has received a VA memorandum rating of 20 percent or above. You must also believe that you will obtain an honorable discharge when you leave active duty.
The veteran's decision to participate in the VR&E program is entirely his or her own. With the assistance of a counselor, the veteran may choose from one of five choices. These are as follows:
Re-employment;
Self-employment;
Long-term service and training may lead to employment.
The use of independent living services is a possibility for veterans who have suffered such a significant work handicap that they need assistance in developing a healthy, independent lifestyle before they can successfully locate another job.
Instructions For Completing VA Form 28-1900
The application will be processed in four to six weeks, depending on the number of applicants. After completing the application for the VR&E and demonstrating eligibility, an applicant must schedule an appointment with a vocational rehabilitation counselor to discuss his or her options. The primary goal of the meeting is to demonstrate that the veteran is confronted with a significant job disadvantage. A veteran's job handicap is defined as the inability to get or maintain adequate work that is compatible with his or her qualifications and interests.
The VA Form 28-1900: What to Do and What Not to Do
Total, there are two pages: a fillable section for the applicant to submit, and an extra page with basic information regarding vocational rehabilitation for service-disabled veterans (available in English and Spanish).
The following information must be included on the first page:
Identification of the applicant, including his or her name and address
The file number for the VA as well as a telephone number; and
A description of the applicant's educational background (including the number of years spent in school);
Include a list of any past vocational rehabilitation programs in which the applicant may have taken part;
Information on their military service; and
Description of their present employment, including the name and location of their company, a summary of job responsibilities, and a breakdown of their monthly pay;
A detailed description of the disability is provided.
VA Form 28-1900 Printable, Fillable in PDF
Related Post For VA Form 28-1900