VA Form 4107VHA Printable, Fillable in PDF –  Your Rights to Appeal Our Decision – Challenged Claims, is a document that describes the appeals procedure for a contested claim under the Veterans Administration. When two people make claims for the same benefit and/or claim to be the surviving spouse or parent of a veteran, the claim is referred to as a disputed claim. A positive ruling on one challenged claim results in the rejection of the other claim or the payment of a smaller amount to the other claimant as a result of the favorable decision. Another option available to claimants is to argue whether or not a certain benefit should be paid or granted to one or more others in certain circumstances. Generally speaking, to be termed disputed, there must be a formal claim filed and a protest filed against payment to one or more of the other claimants.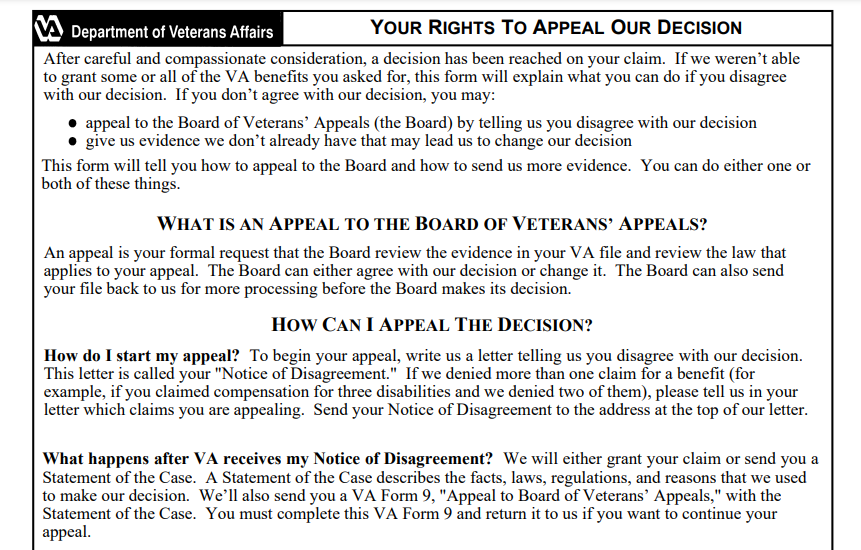 Your Right To File An Appeal Against Our Decision
The VA Form 4107VHA discusses how claimants may file an appeal as well as how they can provide additional proof to the VA if required. It is possible to choose just one of these alternatives or both of them simultaneously.
To begin the appeals process, a claimant must submit VA Form 21-0958, Notice of Disagreement, to the Department of Veterans Affairs. The VA responds with the accompanying Statement of Case, which gives the reasoning for their decision if the claim is denied by the Department of Veterans Affairs. In addition, VA Form 4107VHA suggests that you visit the VA website to get a "simple English" leaflet that describes the appeals procedure.
Claimants may submit extra evidence in support of their claims using VA Form 4107VHA, which is available online. It must be sent to the VA decision notification letter, which may be found on their website. Evidence may be presented in one of two ways. In most cases, a written answer is reserved for papers and written statements, along with an explanation of how they might influence the original decision-making process. Also available to claimants is the option of requesting an individual hearing with a representative from the local VA office, during which written evidence may be presented and witnesses may testify on the claimant's side. Each piece of fresh evidence is assessed by the VA, and the claimant is notified whether the claim is eligible for consideration. Otherwise, the additional evidence, as well as the transcript of the local hearing, is sent to the Board of Veterans' Appeals for consideration.
VA Form 4107VHA Printable, Fillable in PDF
Related Post For VA Form 4107VHA