VA Form 28-1902W Printable, Fillable in PDF – The Rehabilitation Needs Inventory (RNI) (VA Form 28-1902W) is a form that is used to provide the VA with information about a veteran's educational and vocational requirements. The Department of Veteran Affairs (VA) uses this information to help veterans find the right job or educational program for their skills and abilities.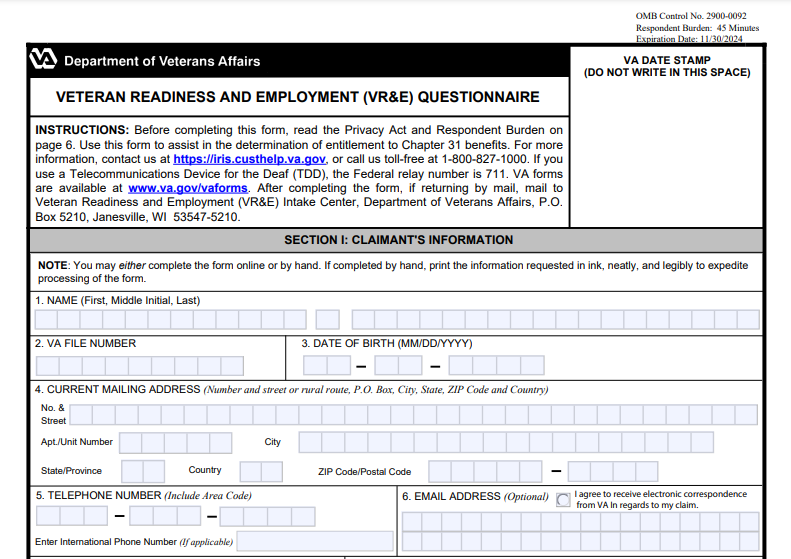 The VA Form 28-1902W is a part of the VA 28-1902 series, which is designed to help veterans find new employment and vocational opportunities after serving in the military. To maintain control over the process and results of counseling and evaluation activities, counseling psychologists, vocational rehabilitation counselors, and contract counselors use these forms. The following are the other forms in the series:
The Veterans Administration Form 28-1902, Counseling Record – Personal Information;
VA Form 28-1902B, Counseling Record – Narrative Report, is used to record counseling sessions (unavailable online).
The most recent version of the form was made available on September 1, 2015, rendering all previous editions null and void. VA Form 28-1902W is a fillable PDF that can be downloaded from the link below or obtained directly from the VA website.
The VA Form 28-1902W: What to Do and How to Fill It Out
Filling out the VA Form 28-1902W with your personal information is the first step. Insert your name, phone numbers, current mailing, and email addresses as well as your gender and marital status into Boxes 1-6. Fill out Box 7 with your claim number. Fill in the blanks with your social security number in Box 8. If you have dependents, fill out Box 9 with the number of dependents you have. If you have any nicknames, please enter them in Box 10. Box 11 should be used to store emergency contact information.
Fill up the blanks in Box 12 with your expectations for VA programs. In Box 13, provide the veteran's professional interests in the fields that he or she is familiar with. If you have ever taken advantage of VA benefits, check the box next to Box 14. In the event of a favorable response, go to Boxes 14b and 14c.
Fill out the employment area completely, and if you have one, include it with your application. Fill out Box 15 with your civilian job history, beginning with your most recent position and working your way down. Fill out Box 16 with your military employment history, beginning with your most recent assignment. In Box 17, indicate whether or not you are considering returning to work in a previous profession or for a previous company.
Fill in Box 18 with a list of work abilities that you believe will be relevant in the new position. Fill in the blanks in Box 19 to indicate any spells of unemployment lasting three months or more.
The next part is dedicated to giving information about education and training background. Fill up the blanks with your greatest level of schooling. Fill complete the boxes 21a-f with information about your school. Fill in the blanks in Boxes 22a-b with your favorite and least favorite academic topics.
In Box 23a, indicate whether or not you hold any vocational certifications or licenses that you want to disclose. If you get an affirmative response, please complete Boxes 23b and 23c. When asked whether you have been diagnosed with a learning impairment, check the appropriate box in Box 24.
The following section contains a description of various impairments. In Box 25, please describe any service-connected limitations you may have. In Box 26, make a list of any limitations that are not related to service. Fill out Box 27 if you have ever had any service-connected limitations that have interfered with your ability to perform your job duties. If the above-mentioned limitations are getting better, check Box 28. If they are steady, place a checkmark in Box 29. If things are becoming worse, put a checkmark in Box 30.
Box 31 contains the specifics of the compensations or pensions that you are entitled to receive. If any claims are outstanding, indicate this in Box 32.
The next section will provide an overview of medical therapy. Fill in the blanks in Boxes 33a-d with details about any medical care you are getting. If you are unable to meet any medical demands, please indicate this in Box 34. If you need any auxiliary aids or services, please note this in Box 35. Box 36 has a list of further issues. In Box 37, specify whether or not there are any outstanding VA claims. Box 38 contains a request for information about additional VA benefits and services.
The last part is dedicated to giving a wide range of information. Provide information regarding housing and living conditions in Boxes 39a-c, as well as information about transportation in Boxes 40a-c. Specify in Box 41 whether or not you are willing to move for a work opportunity. Box 42 should provide a list of any legal difficulties. Information on drug abuse may be found in Box 43. Information on drug abuse therapy may be found in Box 44. If you had assistance in filling out the form, please state this in Box 45 and date the form.
In the signature and date boxes located at the bottom of the form, both you and your case manager or vocational rehabilitation counselor should sign and date the form.
VA Form 28-1902W Printable, Fillable in PDF
Related Post For VA Form 28-1902W