VA Form 1100 Printable, Fillable in PDF – A person who owes money to the United States Department of Veterans Affairs (VA) and who is willing to take proactive actions to resolve the problem may utilize VA Form 1100, Agreement to Pay Indebtedness, to make a formal agreement to pay the debt. You should not lose time in contacting the VA to confirm that you are still prepared to pay any debts incurred as a result of your disability compensation, loans authorized by the VA, pension payments, or education benefits. You may figure out how much money you can afford to pay each month toward the debt in issue, negotiate the conditions of repayment with the VA, and gradually work your way through the debt until you are no longer obligated to pay any money at all. For those experiencing financial difficulties as a result of unemployment or sickness, a modified monthly payment schedule will allow you to pay off your debt over time.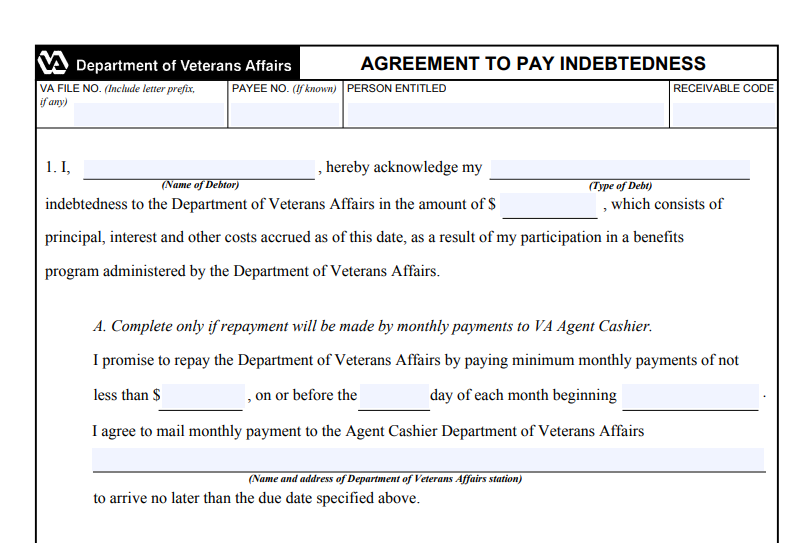 The Department of Veterans Affairs (VA) released this document on October 1, 1992, rendering all earlier iterations null and void. A fillable PDF version of the VA Form 1100 may be downloaded from the URL provided below.
Instructions For Completing VA Form 1100
The following are the directions for completing the VA Form 1100:
Enter the filing number for your VA claim, as well as the payee's name if you are familiar with them.
Provide your entire name as well as the payment code that you have been using to make your payments up to that point.
Confirm that you are aware of any outstanding debts owed to the Veterans Administration (VA) in your name. Make a list of the types and amounts of debt you have accumulated as a result of your participation in a Veterans Affairs (VA) benefits program given to you.
Choose the repayment method that is most convenient for you – you have the option of making a monthly payment to the VA agent cashier or approving deductions from your paycheck. Make a note of the amount of payment you are able to make as well as the date on which the money will be paid or withdrawn. If you choose the first option, be sure to provide the name and location of the VA station.
Confirm that you are aware that possible benefits may be delayed until you have completed your debt payback. Make a note of your mailing address and sign and date the paper.
VA Form 1100 Printable, Fillable in PDF
Related Post For VA Form 1100